Monstress (Single Issues #1-6)
by Marjorie M. Liu &
Sana Takeda (illustrator)
Image Comics | November 4, 2015
Steampunk meets Kaiju-Japanese genre involving monsters [attacking cities]-in this original fantasy epic for mature readers.




As young Maika risks everything to control her psychic link with a monster of tremendous power, placing her in the center of a devastating war between human and otherworldly forces.
The art is fantastic!
I think everyone that purchases this ends up staring at the artwork than following the story, that's just me
.
The writing isn't exactly exciting nor absorbing. I think it needs to improve because it seems kind of dead-weight compared to the art. The art is pulling the story because it's so beautiful and enrapturing. The writing doesn't contribute much, or have the same power/lure, as the art.
The writer doesn't develop the history as the story progresses, which makes comprehension difficult (lots of things happened and lots of people were introduced). She utilizes the last page of the novel as a history lesson from a cat. I think it's adorable, but not entirely effective. Text boxes surround images and it was meant to be read in this spiral-motion. It hurts my head reading all that information thrown at me/reading it in the format it's in. I skipped the history because it's too info-dumpy.
As much as I love the covers, I wish all the issues (even the unpublished ones) were bound together and published as ONE book. There is a bind-up version, but that's not what I'm trying to say. Each issue, by itself, doesn't really have a plot/have enough to support itself even slightly. The story doesn't go anywhere exciting in an issue. I guess I'm trying to say, it's not really a novel. I expected each issue to follow plot structure (the whole thing, not just snippets). If everything was presented as a bound up book, each issue would have gradually developed the plot. This creates a more seamless story. Publishing it as individual issues makes the story choppy.
The story reminds me of Naruto and Soul Eater. Maika's character resembles Naruto because both have this powerful demonic/monster entity inside them. This demon is causing an issue and there are people that are targeting Maika. It's similar to Soul Eater because the monster reminded me of the Kishin Asura. They're drawn similarly with the three eyes and the monster resembles the Kishin's madness. They have this insatiable hunger and they're feared or quite creepy. The witch-nuns in the graphic novel remind me of the witches in Soul Eater.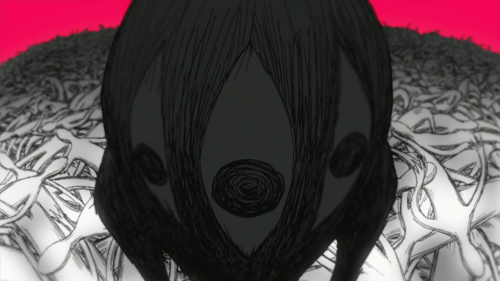 Kishin thing that I was describing poorly.
However, Maika isn't as exciting as Naruto. In fact, I don't particularly like Maika. Even though she's the main characters and has a demon inside her, she isn't particularly exciting. She starts out really guns-blazing (literally) and badass with her gilded bayonet- flame thrower! After that, she "died down". I wish there was more to her, and everything else in this series. More on the story/ storytelling, more on the history (but in a less info-dump fashion), more about the Arcanics & Witch-Nuns etc. I wish everything was more developed. This all does back to publishing all the issues in one bind-up. Maybe the writing could've been refined more, so it can be more developed. I wished they took more time with the story.