You have no idea how much I enjoyed "curating" this dream box! I consider myself a nerd and geek. I love Star Wars, math, science, anime, pop-culture and a bunch of other stuff. I was stoked when I learned about a project being run by Loot Crate. If you don't know, they do subscription crates for geeks and gamers, and they're looking for people to make up an extravagant box of their dreams.
Everything in here is something I love. Luckily, I grew up with a lot of wonderful people that influenced my weirdness. I grew up watching Pokemon, playing Street Fighter with my dad, and being glued to that GameBoy I had (I think I'm over-exaggerating how much of a nerd I am...) My cousins introduced me to Naruto and I talked to them about Dragon Ball. I am Generation Z but I love X and Y. The Affair part of the name is the result of AP history classes.
Studio Ghibli movies are a big part of my childhood. My household has watched almost evert movies from this company and I have so many favorites. But, Princess Mononoke is HANDS DOWN the best movie. It deals with spirits, monsters and gods. It's one of the darker Ghibli films, which is probably why I love it so much. It also shows how awful humans are because they're destroying nature, A+! I thought a shirt/art print of San and the wolves attacking Lady Eboshi on the trail to Irontown would be pretty epic and badass (the one where they're being fired at and running down the mountain).
Comic Book/Graphic Novel
Saga by Brian K. Vaughan is one of my favorite comic book/graphic novel series. It's an epic Sci-Fi, Fantasy space opera with an entertaining narrative and an amazing story. I think Game of Thrones and Star Wars fans would love this series. I know a lot of people have read this series, but a "special" edition of the first issue would be really cool. I hope it might spark the interest of even more people or give dedicated fans a fun surprise.
I have done two Metal Earth puzzles: R2D2 and Ford Model T. I had a lot of fun assembling it (I got frustrated a lot too) and the results are stunning. I keep them in my bookshelf for people to see. There's a: Star Wars, Star Trek, Halo, Batman, Marvel, Transformers, Doctor Who and Harry Potter series. If those series don't interest you, there's also a "landmarks" series. You can build a miniature of the Eiffel Tower and the Arc de Triomphe. There's a little something for everyone.
Dragon Ball and Street Fighters
I think you can see where I'm going with this... Hadouken vs. Kamehameha. I put this on my notes because I thought it would look really cool-kind of like Harry Potter vs. Voldemort during the Triwizard Tournament. Both are extremely powerful and it would be fun to see it used against each other. Again, it'd be great to see this as an art print or shirt, but I think it would look cooler on a coffee mug. When you hold one the cup one way, you see Goku and vice versa.
Fun fact: I love David Bowie and bawled my eyes out when I found out he passed away. I thought it would be cool to have a Ziggy, Thin White Duke or Jareth Funko Pop because Bowie was this "chameleon". Hopefully this box can be in January.
This one makes me laugh a little bit... I think a card with certain scenes from a movie would be funny. I want to write a birthday card where the first thing they'll see is this:
Maybe I could use this for Valentine's Day: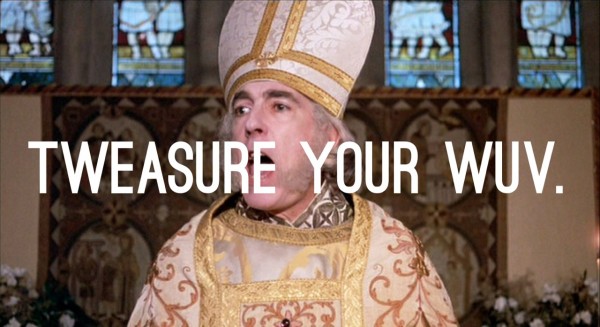 Or when you get in a fight with someone:
Relatable, but funny cards to give to your friends.
I know this is a Dream Crate and I can go as crazy I want, but this already seems pretty excessive and ridiculous. I hope you like my Dream Crate. I had a lot of fun creating this and I love almost everything in here.