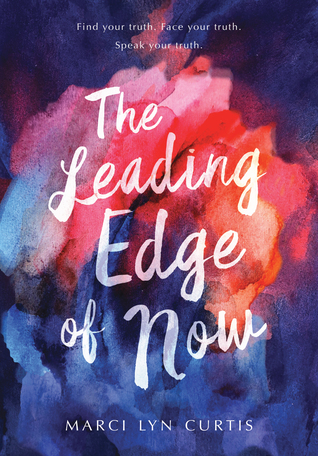 The Leading Edge of Now
by Marci Lyn Curtis
Kids Can Press | September 2, 2018
Just when Grace is beginning to get used to being an orphan, her estranged uncle suddenly comes forward to claim her. That might have been okay if he'd spoken to her even once since her father died. Or if moving in with Uncle Rusty didn't mean returning to New Harbor.




Grace once spent the best summers of her life in New Harbor. Now the place just reminds her of all she's lost: her best friend, her boyfriend and any memory of the night that changed her forever.




People say the truth will set you free, but Grace isn't sure about that. Once she starts looking for it, the truth about that night is hard to find --- and what happens when her healing hurts the people she cares about the most?




Marci Lyn Curtis, the critically acclaimed author of The One Thing, has crafted an honest and emotional story that will resonate with the wide range of readers impacted by sexual assault.


Sexual assault does not define this story, however, just as it does not define Grace. Wry humor and true love emerge as Grace, like many in the #MeToo era, seeks to find her truth, face her truth, and speak her truth.
I dislike YA Contemporary novels because they tend to be romance-centric and they have petty problems, though I concede YA Fantasy novels also suffer the same flaws; fantasy novels are more "tolerable" because of their sometimes-imaginative backdrops. Despite my poor history, I still take a chance ever-so-often, and I am often surprised by the heart and relatability of some-like Starfish by Akemi Dawn Bowman. I enjoyed certain novels more than others because they were Own Voices, which brought attention to issues in our society and represented minorities. I have such a stuffy, snobbish, and pretentious tone in this paragraph: gross.


I was given an opportunity to review this novel through the Goodreads Giveaway program. The gorgeous cover piqued my interest and the phrases "Me Too" and "inspired by personal experiences" sealed the deal. I am drawn to these stories because there will be strength and triumph. I love reading the metamorphosis of characters. This is based on my experience reading The Way I Used to Be by Amber Smith, which moved me to tears.


I was not a fan of this novel the first time I read it. Something didn't click-it was too angsty and kind of awkward. Once I got past that hurdle, I couldn't put the book down. Familial, romantic, and friendly (friendships) relationships are mended. There is suspense in finding the assaulter. There is an insightful and raw glimpse of the mentality of victims that draws sympathy from readers, which is developed with the first person point of view: has a tone similar to a diary entry. The plot is normally-paced, but I wished it was a little faster—I wanted to know the perpetrator already. While I was reading, I felt a Veronica Mars-like vibe, which I loved.
Although this novel has many strengths, it suffers from the same fatal flaw: romance-centricity. It's hard for me to accept, but [unnecessary] romance is almost unavoidable in YA. I understand that victims/survivors can find support in friends, family, and partners, but it seemed like having a boyfriend/involving the love-interest solved everything. Another reviewer considers it a "subplot," but the repetitive inner-dialogue about Owen, the love interest, made it seem like a significant part of the story. Once there was closure with the main conflict, there "had to be" closure with the romantic subplot; I wanted to close the book because everything was finished. Despite that, it

is a powerful, complex, and engrossing story; I enjoyed it and would recommend it.