This year, I plan to reread the books on my shelf-mainly the ones I have mixed feelings with. Last year, I had a first-world book nerd problem-I own a lot of books I don't like and probably don't need. After determining my feelings, I will decide to keep, sell, or donate certain books.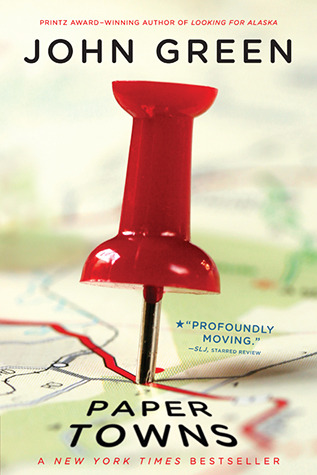 Paper Towns
by John Green
Speak | October 16, 2008
Who is the real Margo?




Quentin Jacobsen has spent a lifetime loving the magnificently adventurous Margo Roth Spiegelman from afar. So when she cracks open a window and climbs into his life—dressed like a ninja and summoning him for an ingenious campaign of revenge—he follows. After their all-nighter ends, and a new day breaks, Q arrives at school to discover that Margo, always an enigma, has now become a mystery. But Q soon learns that there are clues—and they're for him. Urged down a disconnected path, the closer he gets, the less Q sees the girl he thought he knew...
I can't help but agree with my original sentiments with this novel. I still think it's underwhelming and inconsistent-an energetic beginning becomes a lethargic middle, which becomes a slightly more rejuvenated climax, and finally a sleepy ending.
I still loathe the relationship
between the main characters. Q pines for "Margo," and Margo thinks she needs to save Q from a boring and paper life; they romanticize each other. Margo strings Q around like a dog and Q happily obliges to her whims. When Margo leaves, Q believes it is his "duty" to find Margo; he's an ass in the process and should be called DD, Debbie Downer.
Despite disliking the main characters, I love the "supporting" characters. I love their characterization and the dynamic they have with each other. I've also grown to appreciate John Green's writing style. I still think it's somewhat pretentious and boring babbling, but it's a refreshing and quirky YA writing style. Green is incredibly intelligent, and he pours his knowledge into his novels. He continues to educate us and encourage us to think. However, his voice seems out of place in a teenager's point of view-too wise and experienced. I would love to see him dabble in New Adult or Literary Fiction.
On a totally unrelated note:
I watched Call Me by Your Name, and I will probably watch it again soon. It's a great film; you should definitely watch it if you haven't already. The OST is amazing. I've been listening to it repeatedly and crying. Listen to it and cry with me.