The Insanity Series by Cameron Jace
Insanity (#1)
After accidentally killing everyone in her class, Alice Wonder is now a patient in the Radcliffe Lunatic Asylum. No one doubts her insanity. Only a hookah-smoking professor believes otherwise; that he can prove her sanity by decoding Lewis Carroll's paintings, photographs, and find Wonderland's real whereabouts. Professor Caterpillar persuades the asylum that Alice can save lives and catch the wonderland monsters now reincarnated in modern day criminals. In order to do so, Alice leads a double life: an Oxford university student by day, a mad girl in an asylum by night. The line between sanity and insanity thins when she meets Jack Diamond, an arrogant college student who believes that nonsense is an actual science.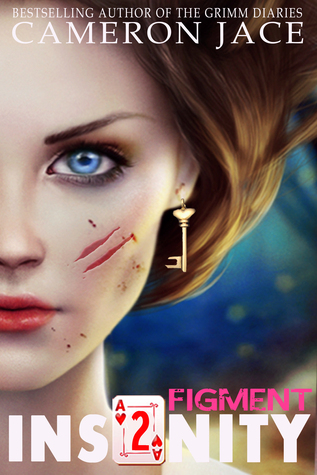 Figment (#2)
After her encounter with the Cheshire Cat, Alice Wonder can hardly tell reality from imagination. But when kids have their head chopped off and stuffed in watermelons all over the city, it's clear that another Wonderland Monster has arrived, possibly scarier than the Cheshire. Alice, along with Professor Pillar, have to solve the killer's puzzles before a horrible event threatens the death of millions. Then Jack Diamonds appears again. This time, Alice must know who he really is.
Circus (#3)
Ladies and gentlemen, boys and girls...
There is a loose rabbit with a ticking bomb in the streets of the London.
Come closer, you won'd believe your eyes...
Alice & the Pillar follow a set of clues, meticulously weaved by the most mysterious Wonderland Monster of all.
Here is the Maddest Show on Earth ... The Circus!
Where Alice's most unexpected secret will be revealed.
A secret that will turn tables on good and evil, and complicate Alice's struggles with life, love, and sanity. Will Alice regain part of her sanity back? Catch a bigger monster? Maybe find love in the most unexpected places of all?
Hookah (#4)
A Plague Scarier than Death
Alice and the Pillar have to stop a Wonderland Monster who'd lashed out an incurable disease onto the world. Their biggest challenge is that the world loves this monster so much.
A Cure Larger than Life
The only way to save the world is to travel to the other side of the globe, and peek into one of Lewis Carroll and the Pillar's darker pasts.
A Truth Madder Than Fiction
This time, the price of saving the world is too high. Alice will have to live with the consequences of the maddest logic of the world surrounding her.
Will Alice find who the Pillar really is? What he wants? Is she brave enough to handle the one Wonderland Monster she'd thought was a good friends? And even so, is the world ready the truth?
About the Author
Cameron Jace is the bestselling author of the Grimm Diaries and Insanity series. A graduate of the college of Architecture, collector of out-of-print books, he is obsessed with the origins of folk tales and the mysterious storytellers who spread them. Three of his books made Amazon's Top 100 Customer Favorites in Kindle 2013 & Amazon's Top 100 kindle list. Cameron lives in California with his girlfriend. When he isn't writing or collecting books, he is playing music.
1. When I read this book, I learned A LOT about Alice in Wonderland and Lewis Carroll. You obviously did a lot of research. Where did you find all of this information?
Well, I have been a fan since long, and like in the Grimm Diaries I have always been interested in the authors who wrote long lasting books. But when I started to right the searches the research was hectic. I started with book on Lewis Carroll, interpretations, both mine and others, then I began asking British people who lives in Oxford and London. Those, by far, gave the meat of what I was looking for.
2. How did this book come to be? What inspired you to start the book?
I hadn't planned to become a retelling/folklore storyteller when I first started. But after the success of the Grimm Diaries I thought I'd give it a try. I had an idea for the Wizard of Oz, but I wasn't passionate about it. Then I read an article one day, a blog actually, about a teacher saying her students told her "this Carroll guy must have been on drugs when he wrote this." It's a funny article, and I agreed to Carroll's beautiful madness, so I thought to start a series where he is in asylum, but thought Alice in a asylum is much better.
3. Your characters are so complex and intriguing. (I know this is more of a statement than a question.) They all had interesting back stories. Did you have trouble building their past?
Usually, character building takes time, but in Carroll's story I always seem to see through easily. I mean the Pillar is definitely out of his mind, always guiding Alice in gibberish and coded words, without giving away his own past. That's enough for a character study for me:)
4. Was there anything that was difficult to write?
This series is the most difficult I wrote. It's tight. Fast paced. Informative, and entangled in long and short-arch plot, so it's not easy. But I love it so much.
5. What part was your favorite to write?
Frankly, I love the Pillar and Fabiola. Alice, too, but not as much. Lol. I write the Queen, Duchess, and the Cheshire in a very objective way. But what I love even more than all of this are the Wonderland Monsters in the beginning of every book, let alone the commentary on how mad our real world is.
6. What are you currently working on right now?
A thriller. It's been taking a long time, but for a fantasy story, the shift isn't easy. But I've always wanted to write adults thrillers.
7. Would you want your book to become a movie adaptation? If so, who would be in your dream cast? (I want Johnny Depp because he was in the Alice in Wonderland movie and he's a great actor.)
Of course! Hmmm... The best Alice I was told was Emma Watson. I don't why, since I am not really a Potter fan. The Pillar would be someone like James Spader, but then I discovered he has a similar role, if not as crazy, in the Blacklist TV series. You'd be surprised if I told I am imagining Michael Fassbender, given we can make him look a bit older.