The Bookish Box hosted a Harry Potter trivia on Instagram, and they gave out prizes. I answered a question correctly for the Amortentia bubble bath. It smells pretty, girly, and fruity-like lychee, apple, and berry. Unfortunately, the bottle does not say who created the product, or the scent name. With the help of Google, I was able to find the creator and the product. (You can purchase a bottle from "Cherry Pit Craft's" website, or Etsy.) Here are the possible scents and their profiles, which can be found on the store's website.
-Love Spell: A lavishly lush blend of orange, peach, cherry blossom, and white jasmine.
-Pure Seduction: A seductive blend of musk, floral bouquet, apple, and fresh citrus.
-Orgasm: A unique blend of melons, citrus fruits and berries tempered with brisk citrus notes and hints of kola.
-Passion Fruit & Rose: An exotic floral that is ideal for refreshing the long hot days of summer. Crisp, sweet, and modern… As cool and tropical as a tall iced mimosa, this scent will instantly remind you of warm, windy Hawaiian nights.
Whatever the scent is, I can't stop smelling it!
I do notice that they're all similar with the floral, fruit, and citrus combos, but different...
The only thing I dread is wasting water.
After using it:
I like baths, they're relaxing-I was very tempted to sleep in the tub. Bathing also made me feel like a little kid again. The cons are still wasting water, and feeling like a cooked lobster. The product made my bathroom smell nice, but it had little to no effect on me. *sniffs forearms and wrists* I still smell the perfume I sampled when I went shopping on my wrists.
I ordered three books from Book Depository, one of which is a pre-order:
Vicious
by V. E. Schwab,
Without Merit
by Colleen Hoover, and
Milk and Honey
by Rupi Kaur. Although the books are cheap, and come with free shipping, you can't track your order. The website allows you to check the order status, but the information is unhelpful-it only provides the dispatch day and a time frame of when to expect your order. I was happy to see two of my orders arrive at the same time, so I found the separate packages wasteful. The books are in great condition, and I love the bookmarks.
I'm going to enjoy coloring one in.
I am excited to finally read
Vicious
! I was recommended the book as a Freshman but never read it because I couldn't find it in shops or libraries. After hearing rave reviews from people in the book community, I decided to purchase it. I'm a bit scared to read
Milk and Honey
because I think I'll be an emotional wreck afterward. I want to take it out to read, but I don't want to forget it, get it dirty, have people ask questions about it, or cry in public. I hope I enjoy the books and take nice pictures of them.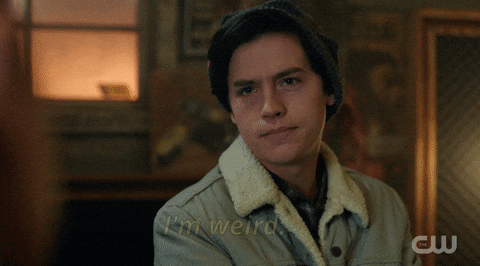 Before the fans go crazy in the comments, I don't watch Riverdale. I'm expecting another giveaway prize, so maybe I'll do another post like this. BYE!
Have you read the books? What did you think?