Ugly Love by Colleen Hoover
Publishing: Atria Books
Miles Archer is a pilot with a bad past. He refuses to love after what happened six years ago.




Tate Collins is in Med school. She's pursuing to become a nurse. Her brother, Corbin, has an apartment near her school and a hospital where she works. So, she moves in with him. The apartment she lives in is mostly filled with pilots. Her neighbor across the call is Miles, a friend of her brother.




Their attraction creates a "relationship." This relationship consists of various sex-capades. He has two rules: don't ask about the past and don't expect a future.




Things go well, for awhile, but: hearts get infiltrated, promises get broken, rules get shattered, and love gets ugly.
From the summary I thought this book would've been friends with benefits. MILA KUNIS! LOVE HER!
Characters:
I liked this book, not gonna lie. I read this book rather quickly and I enjoyed it, most of the time.
I got pissed at both of the main characters. Tate could've refused this whole relationship. She knows it's not going to work because of how she feels and his rules won't work with her. She's a dang nurse, she should know what's healthy and not healthy. This whole set-up is impossible!
Someone's bound to get the feels
I love Miles, don't get me wrong. He's such a complicated character with a difficult pass. The way he acts is understandable. But, it lasted
too
long. The words he said and not said are just terrible. He can't do that to a person. He should've ended this whole relationship himself! He knows that it's not working, she expects more, he's not giving her more, she understands, and doesn't take anymore.
It's such a destructive relationship.
They were hiding there feelings and things didn't work out. Just tell each other how you feel about the set-up and just end it like the proper adults, that you should be.
Cap, the old bell man, is such a great person. He's there for Tate when she needs him. He provides laughter and life when things are down. He gives wisdom to Miles when things are down in the dumps.
I love old people. They just know what to do.
Writing:
I love the dual point of views in the beginning of the book. The Miles chapters slowly build up to the reason why he's the way he is. It was hard to read. I was reading about his past relationship, the one that made him become the crap-tastic person he is. I was rooting for Miles+Tate the whole time, most of the time, I didn't like reading about the previous girl. In these chapters, Miles is such a pussy.
Bad meme, but look at the words.
He's written as a really possessive, needy guy. He's just like: "I love you!" in every sentence, "I want you", "have my babies", and anything else that a girl might say.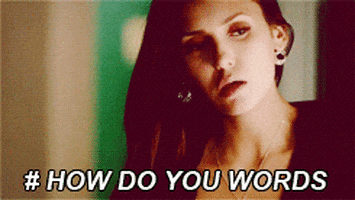 Because of the weirdo that I am, I connected this book to one of my new favorite songs.